The Ethereum Merge Is Scheduled, Here's What You Need To Know
The Merge is coming, here's everything you need to know👇
Last week on the Consensus Layer Call, Ethereum developers confirmed the Ethereum Mainnet Merge will go live between September 15th & 16th!
Tentative mainnet TTD was set at 58750000000000000000000.
Vitalik also announced TTD has been set with an approximate go live date of September 15th.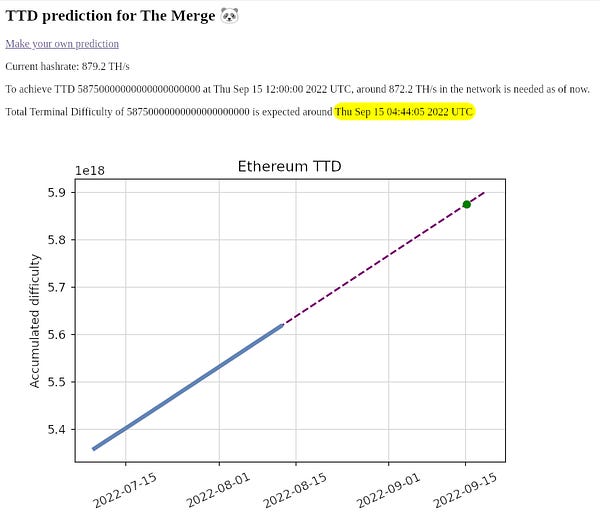 Now that we have a target date of September 15th, it's important to know the TTD estimate might have a week or so of error.
This week on the Ethereum Core Devs meeting, the estimates will be rechecked and TTD will be confirmed. A final adjustment will be made to hit the target date if necessary.
If you want to follow along, here's a link to The Ethereum Core Devs Meeting 145 on August 18th.
One more thing to note: Before the Merge can be completed, the Bellatrix fork must be performed. This will implement the software needed for clients to run the consensus layer. This is scheduled to happen on 9/6, which is 9 days before the Merge is set to go live.
Important Dates To Know
8/18: Ethereum Core Devs Meeting 145 will be held to finalize TTD.
8/18 - 8/22: Execution Layer & Consensus Layer teams will put out Mainnet software releases.
8/23: Ethereum Foundation blog and other community/infrastructure annoucements of final parameters and releases.
9/6: Bellatrix Mainnet Upgrade at Epoch 144896 at 11:34:47AM UTC.
9/9: Merge Community Call #7 will be held.
9/16: Paris Mainnet Merge transition. (Tenatively scheduled as of now)
Questions You May Have
So does this really mean the Ethereum Merge is actually coming in 1 month?
YES, the TTD (Terminal Total Difficulty) has been set which will put the Merge going live tenatively September 15/16.
The timing of the Mainnet Merge will depend on the difficulty of mining a block, which varies depending on how much mining power is dedicated to the network.
What is TTD?
TTD (Terminal Total Difficulty) specifies the end of Proof of Work (PoW) and when Proof of Stake (PoS) will begin. TTD is the total difficulty required of the final block mined in Ethereum. The next block after will be produced by Proof of Stake.
As an example, for the Ropsten testnet, the TTD was 50000000000000000.
When Ropsten block 12350712 reached TTD, it was the final PoW block.
How was the Merge TTD selected?
Check out The Merge TTD write up from Mario Havel. A finalized TTD will be set on 8/18 at the Ethereum Core Devs Meeting 145.
How can we be sure Ethereum is ready for the Merge?
The 3 previous testnet merges (Ropsten, Sepolia, & Goerli) were largely successful and the Ethereum devs would not risk merging to mainnet if any there was any major concerns or bugs.
Resources To Keep Up With The Merge
Ethereum Foundation Research and Development Blog
Mega Merge Resource List by Tim Beiko, Trent Vanepps, & Mario Havel
What's New in Eth2 by Ben Edgington
Articles To Read
Finalized no. 36 - Danny Ryan - Ethereum Foundation Blog
Ethereum Likely To Merge On Sept. 15 - The Defiant
Ethereum's Final Testnet Merge Set for Early August - Decrypt
Coming Sooner: ETH devs move up the date for Merge - Coin Telegraph
Ethereum Software Update Planned for September After Successful Test - Bloomberg
Merge Memes 🐼
To summarize, The Merge is coming 🔜 🐼
This concludes The Ethereum Merge Is Scheduled, Here's What You Need To Know. I'll be back soon with a new post breaking down everything you've ever wanted to know about the Merge.
Don't forget to subscribe and follow along on all platforms.
Stay gucci frens.
---
Thanks for reading The Ethereum Merge Is Scheduled, Here's What You Need To Know. Don't forget to subscribe!
---
This newsletter is for educational purposes only and is not financial or investment advice. Always make sure to do your own research and stay gucci.